Eddie Colman - The Italian Marble Statue
Shortly after Eddie died in the Munich Air Disaster, his family commissioned a small statue to be made of him, and for it to be carved in white Italian marble. The sculptor did a terrific job on it, but I can't remember if the family bore the 2000 pounds (which was an enormous amount back then) bill, or if the money was raised by public donation. My memory is a little hazy on this. However, the statue was done and stood on Eddie's grave in Weaste Cemetery, Salford, for years. It was a beautiful thing to see.
However, as the years have rolled by, and tribalsim and vandalism amongst fans became more prevalent, the statue was damaged on more than a few occasions. Sometimes an arm would be broken - or both, and I believe later the head was taken off it. It became too much for the family to bear and eventually, a broken and damaged statue had to be permanently removed from his resting place.
Talking to friends yesterday, I got to mentioning how I used to have a photograph of that statue, but unfortunately it had become mislaid. Thanks to my good friend Ian McCartney, I have received a couple of pictures of the statue as it originally was and I thought that it would be nice to share them with you.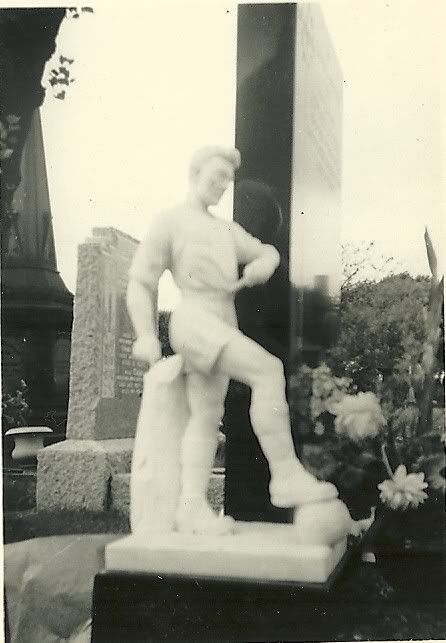 Cheeky, precocious, exuberant, effervescent, bubbly, exciting; all those words could be used to describe Eddie Colman. But as far as football is concerned, you could only ever describe him as supremely gifted and talented. He was certainly one of those players that left an indelible imprint on your memory with his own style of playing the game. He was definitely different from his contemporaries of that era – in many ways – but more of that later.
Eddie was born and bred a Salford lad and entered this world on November 1st, 1936 – just one calendar month later than the indomitable Duncan Edwards. He was born at number 9, Archie Street, Ordsall, a really tough area that lies close to what is now Salford Quays, but back in those days was simply known as "the Docks." Like most of Manchester's inner city areas, Ordsall was an area of industrial buildings and streets made up of murky, dark bricked, two – up, two – down, terraced houses in cobbled stoned streets where the local people were housed. The original opening frames of the long running soap opera "Cornation Street" showing back to back terraced houses divided by an "entry" were of Eddie's birthplace – Archie Street. They were honest, (well some of them!) hard working, God fearing people who lived there – but tough as granite and you had to be able to "look after yourself" to survive in those parts. He was born a few years before the outbreak of World War Two, and during those hostilities, with both the Manchester and Salford Docks and Ordsall's industrial buildings being an obvious target for the German Luftwaffe, the area saw a lot of devastation. Many of those terraced houses were blitzed and there were many casualties. This was the initial environment that the young Eddie grew up with.
Ordsall lies virtually alongside Old Trafford, and it's no surprise then that the local kids grew up supporting Manchester United. If they were not at school, kids back then spent most of their time outside, and for the boys, it was always football through the autumn, winter, and spring, and cricket through the summer. Very few working class families owned television sets back then and computers were virtually unheard of – so kids did not have the distractions that they have today, and tended to expend their energies outdoors. It was unusual to find a boy who wasn't interested in football. Games of football would take place in those cobbled stoned streets and on the "crofts" where houses had been demolished as a result of the bomb damage. The "matches" would go on for hours, and if a youngster had a ball, no matter what size (although usually tennis balls were the norm), then there was a game.
This was how the young Eddie initially honed his footballing skills. Academically, he was an average boy. Physically, he was small in stature with a tiny frame, blonde hair, and a cherubic face. But that was misleading to say the least. To look at him, he was the angelic "boy next door", but Eddie had an impish streak and was a born practical joker, which offtimes got him into trouble both at home and at school. However, he shone on the sports field and had great abilities both playing football and cricket. His size never deterred him on the football field and he was never ever afraid to get "stuck in" and "mix it" with boys that were physically more mature than him and in most cases, older. In the immediate post – war years, he began to develop and it was no surprise therefore that he started to attract attention as first he starred in his school team, and then made selection for the Salford City Boys team, a year earlier than was normal. Eddie was a United fan, and after playing school football on a Saturday morning, he would walk the short journey with his mates, along Trafford Road and across the "Swing Bridge", to watch United. Busby's team at that time was the team to watch, but it was also at this time that he was starting to implement his youth policy, gathering the best young talent available and bringing them to Old Trafford.
Although there was a multitude of football scouts queueing up at the Colman household's front door, there was only ever one club that Eddie was going to sign for – and that was Manchester United. He joined United in 1952, and immediately settled in trying to establish himself alongside a multitude of talented youngsters – many of them had been schoolboy internationals. But this never ever deterred young Eddie, he had absolute belief in himself and a temperament that was mature beyond his years. There was a lot of competition amongst the youngsters back then, but Eddie never shirked that challenge, and although still small, he put in some sterling performances for United's juniors in his first year, playing in matches against teams where the opposition players were mostly adults.
Eddie's personality was impish but to see this side of him, you really had to know him. His team mates soon found out that Eddie was the complete prankster! It got him into a few scrapes, particularly with Jimmy Murphy, but I'm sure that Jimmy, after his initial annoyance, sat down and laughed also. Eddie was very popular amongst his team mates, and as he moved up through the "B" and "A" teams, that popularity never dimished. He captained a very successful Youth team for the first three years and amongst that team were the likes of Duncan Edwards, Billy Whelan, Bobby Charlton, Wilf McGuinness, and Shay Brennan. His style of play from the right – half position was different from the normal wing half of his day. Normally, wing halfs back in those days could be likened to "enforcers" – they were normally well built and most were destroyers. Eddie, because of his size and stature was full of guile and craft and had a quick footballing brain. He was an exquisite passer of the ball and could thread it through the eye of a needle. He could also tackle, a tact that a lot of pundits of the time failed to see. But he had developed this wonderful body swerve, the likes of which people had never ever seen, and haven't since.
Just eleven days after his 19th birthday, on November 12th, 1955, he made his first team debut in 1-3 defeat at Burnden Park, against Bolton Wanderers. At 5'7" and just 9 stones 2 lbs, against such a physical team that Bolton was back then, you would have feared for young Eddie's safety! Not a bit of it – he was in amongst the "Trotters" like a Jack Russel hanging on to a trouser leg! This was the first time that his trade mark body swerve had been seen at the top level of the game in England. The man on the receiving end was none other than Nat Lofthouse, "the Lion of Vienna." Lofthouse was the typical old fashioned centre forward, tough as teak and no-holds barred and was also a seasoned international player. He was very, very physical. As young Eddie carried the ball away from danger just beyond the 18 yards line of United's goalmouth, Lofthouse made for him. It was a "David and Goliath" situation. There was this young, blond, angel faced kid making his debut, and was just about to be introduced to the tough professional game of First Division football, by the old wizened master of his craft. As Lofthouse moved in for the kill, the youngster made an exaggerated movement with his hips and arse - it was as though he was on the dance floor doing a rumba! It mesmerized Lofthouse into taking the movement and with just another little swift movement of those hips and arse – Eddie was off in the opposite direction with the ball, leaving Lofthouse in "no-man's land!" Not only did that dummy confuse Lofthouse, but it also confused most of the people inside Burnden Park that afternoon, particularly those sitting in the Manchester Road Stand for there was a murmur went out like you'd never heard before! Eddie Colman had arrived.
He was to remain a permanent fixture in the team after that and he played a huge part in "the Babes" winning their first title in that 1955/56 season. The fans took to him as one of their favourite sons and christened him "Snake Hips – the boy with the Marilyn Monroe wiggle." He was the perfect foil for Edwards in the middle of United's midfield. They complimented each other so well – were so precocious and feared nobody and no reputation, and they were a formidable partnership together. He was never amongst the goals and only twice scored at first team level. His first came just two weeks after his debut when he scrambled the ball home from close range at White Hart Lane against 'Spurs in November 1956. His second was all important when again he forced the ball home from close range at Old Trafford against Red Star on that dark, January foggy night in 1958 that gave United a 2-1 lead to take with them on that ill fated trip. His sense of humor was to the fore when Henry Rose, the Daily Express journalist, asked him after that European game, what it felt like to score such an important goal. Eddie responded; "You know me Henry, I'm the most dangerous player in the world from two yards!" Just a year earlier, when United had flown to Spain for the European Cup Quarter Final first leg game against Bilbao, upon landing in Basque capital, he was one of the first players to alight from the sircraft. Instead of being met by glorious sunshine, it was sleeting heavily and Eddie was heard to remark; "Caramba! Just like Salford!"
It was true to say that Eddie was now an established, and integral member of "the Babes" and once again, he picked up another Championship winner's medal as well as playing in the F.A. Cup Final, in the following season 1956 – 57. I have no doubts at all in my own mind that he would have gone on to win full England international honours had fate not decreed otherwise. He was in superb form at the time of the tragedy, and together with the established English internationals of Byrne, Edwards, and Tommy Taylor, I also think that Eddie, Mark Jones, and David Pegg would have made both the World Cup squad that went to Sweden in 1958 and that they would probably have been the backbone of the England team for years to come.
Off the field Eddie just loved life. His impish sense of humour was so infectious, and he became very close to Bill Foulkes, and Foulkes's wife, Theresa. He was very fashion conscious and in the middle fifties when "drain pipes", "winkle pickers", and threequarter-length jackets became the style, Eddie was one of the first to be seen wearing that garb. Eddie's best friend as I recall was a little guy whom I think was called Jimmy. They were inseparable and there was no show without "Punch" – where there was one, there was the other! They could both be seen around the local dance halls at weekends, but Eddie would never let on to the girls that he met, what he did for a living. Whenever they asked he would just tell them; "I work in Trafford Park" or "I'm a painter and decorator".
He loved a pint, and going out with the lads for a drink and a sing song. There was numerous times that Eddie, Wilf, Bobby, Tommy, David, Billy, would gather down at a pub in Sale. Eddie idolized Sinatra and fancied himself as a pianist/crooner. He used to do his "party piece" in the singing room – "Pennies from Heaven" – much to the delight of the locals. His liking for a pint did lead to some trouble for him though, and it came from none other than Roger Byrne, the United captain. No doubt the exuberance of youth was the main culprit, but on a couple of occasions Eddie did let his standards drop a little and once or twice turned up late for training. The occasion of Byrne's intervention was after one of the famous "killer ball" games that the players used to play on the gravel at the back of the Stretford End. The players were stood around when it had finished and Roger barked at him that he wanted a word. He took him out of earshot of everybody and when their conversation was over, Eddie was white-faced. It transpired that Roger had certainly left him in no doubts that if he didn't pull his socks up and get a grip on his lifestyle, then there was no doubt that he would be on his way out of Old Trafford. That he heeded Roger's advice was to his good. Shortly after this, Eddie met a wonderful young girl named Marjorie and he was smitten.
Eddie was another of "the Babes" who was idolized by thousands of young kids of that era. Again, like most of those boys that he played alongside, there was no airs and graces with him – just a plain little Salford lad that happened to play football for the Club that he adored. Nothing flash, no pretentiousness. It was a common site to see him walking off home after playing in a match at Old Trafford, chatting to fans as he went. My last sight of him was after the FA Cup Fourth Round tie against Ipswich Town at Old Trafford on January 25th 1958. United had strolled through the game to win 2-0. About half an hour after the game finished he came out of the main entrance wearing a big black duffle coat with wooden buttons, and was immediately surrounded by kids. He signed away smiling and laughing, and then joined some friends and they walked away down past the old ticket office and out of sight.
After the disaster, I would often play "wag" (truant) from school, and walk from my home in Chorlton-upon-Medlock, through Hulme and on to Regent Road in Salford. I would trek up Regent Road into Weaste and then into Weaste Cemetery. Eddie was buried at the top of the main drive on the right hand side, on the corner, just in front of the church. His family had a beautiful white marble statue of him passing the ball, commissioned and sculptured in Italy. It stood about three feet tall and was so beautiful. I spent many an hour stood there in front of his resting place and that statue, reliving old memories and shedding many a tear. Unfortunately, I believe that the statue was vandalized many years later and is no longer there. In February next year, I will make another pilgrimage to his resting place, and no doubt the tears and the memories will flow once again.
Rest On In Peace Eddie, you are never forgotten.
Eddie made just 107 appearances in all competitions for United Scoring 2 goals.
by Tom Clare, author of Forever a Babe, and the Men who were the Busby Babes, which can be ordered below
http://www.amazon.co.uk/gp/product/1...tpmanunblog-21
http://www.amazon.co.uk/gp/product/B...tpmanunblog-21